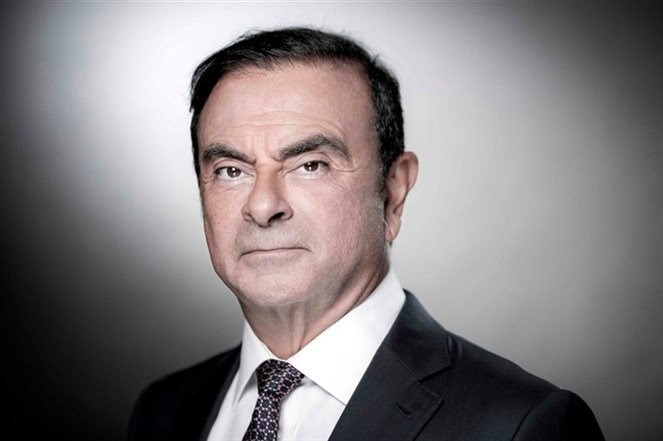 French and Japanese media have released a video about police arresting Nissan and Renault chairman Carlos Ghosn for suspected tax evasion.
The video, released by Le Parisien on Tuesday, presents a special Ghosn plane near Haneda Airport near Tokyo, where the police are waiting.
Police picked up on Ghosts to pick up Ghosn, once a champion for rescuing Nissan Motor Co. before being charged with corruption and tax evasion.
A Japanese media said on Monday that prosecutors of Ghosnot Tokyo were questioned and arrested because they were suspected of reducing their payment details.
The Asahi newspaper reported that prosecutors had started the office of Nissan's headquarters and other venues.
Ghosn, who brings together Renault's President and Chief Executive Officer in France, is arrested, reported by the NHK and the Kyodo news agency.
Ghosn, a Lebanese-born French-born Brazilian french career in France, started Michelin in France and moved to Renault.
Ghosn joined Nissan in 1999, after Renault acquired the controlling stake of the company, which became its CEO in 2001.
alreadyLoaded_facebookConnect = false;
$(window).load(function () {
//$(window).bind('mousemove' , function(){ // $(window).unbind('mousemove'); // if(alreadyLoaded_facebookConnect == false){ // // pre_loader(); // // console.log("test"); // } //});
if ($(window).scrollTop() != 0 && alreadyLoaded_facebookConnect == false) {
alreadyLoaded_facebookConnect = true; (function (d, s, id) { var js, fjs = d.getElementsByTagName(s)[0]; if (d.getElementById(id)) return; js = d.createElement(s); js.id = id; js.async = true; js._https = true; js.src = "http://connect.facebook.net/en_US/all.js#xfbml=1&appId=148379388602322"; fjs.parentNode.insertBefore(js, fjs); }(document, 'script', 'facebook-jssdk')); // pre_loader(); // $(window).unbind('mousemove'); // console.log(" loaded"); //setTimeout(function(){ // $('#boxTwitter').html("Tweets by @tayyar_org');
//}, 3000);
}
});
//$(window).bind( & # 39; scroll & # 39;);
$ (window) .scroll (function {) {
if (alreadyLoaded_facebookConnect == false) {
alreadyLoaded_facebookConnect = true;
// $ (window) .unbind (scrolling & # 39;);
// console.log ("scroll loaded");
(function (d, s, id) {
var js, fjs = d.getElementsByTagName (s)[0];
if (d.getElementById (id)) returns;
js = d.createElement (s); js.id = id;
jsasync = true;
js_https = true;
js.src = "http://connect.facebook.net/en_US/all.js#xfbml=1&appId=148379388602322";
fjs.parentNode.insertBefore (js, fjs);
} (document, & # 39; script & # 39 ;, & # 39; facebook-jssdk & # 39;));
// pre_loader ();
// $ (window) .unbind (& mousemove & # 39;);
// setTimeout (function () {
// $ (& # boxTwitter & # 39;) .html ("The @tayyar_org tweets');
//}, 3000);
var scriptTag = document.createElement ("script");
scriptTag.type = "text / javascript"
scriptTag.src = "http://www.tayyar.org/scripts/social.js";
scriptTag.async = true;
document.getElementsByTagName ("head")[0]. appendChild (scriptTag);
(function () {
$ .getScript ("http://www.tayyar.org/scripts/social.js", function () {});
});
}
});
//$(window).load(function))
// setTimeout (function () {
// // add the returned content to the tag of a newly created script
// var se = document.createElement (& # 39; script & # 39;);
// se.type = "text / javascript";
// //se.async = true;
// se.text = "setTimeout (function () {pre_loader ();}, 5000);";
// document.getElementsByTagName (& # 39; body & # 39;)[0]. appendChild (se);
//}, 5000);
} //);