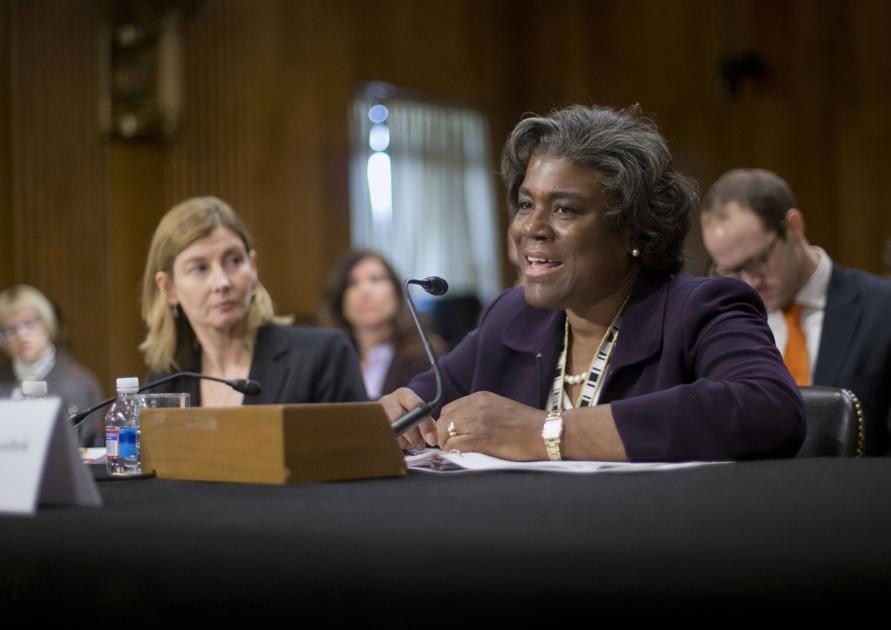 President-elect Joe Biden on Monday touched Baker natives and LSU alumni Linda Thomas-Greenfield as U.S. ambassador to the United Nations.
Under President George W. Bush, he served as Ambassador to Liberia and under President Barack Obama as Deputy Secretary of State for African Affairs.
As a representative of the United States, the post in the World Organization is one of the highest-level positions in the U.S. government. His predecessors include Adlai Stevenson, George HW Bush and Madeleine Albright.
Unlike his predecessor, Thomas-Greenfield has 35 years of service in the U.S. Foreign Service, including Jamaica, Nigeria, the Gambia, Kenya, Pakistan, Switzerland, and Liberia.
He was in Rwanda in 1994 when the genocide broke out and he was held gun until he convinced his attackers that he was American. In addition, during the Afola crisis, he was a senior Foreign Ministry official responsible for African policy.
During his career in the Foreign Service, he spent more than a decade dealing with asylum and migration issues. Thomas-Greenfield left the service in 2017.
"It brings a diverse perspective and unique experience to the cabinet that will be invaluable to the President-elect and his national security and foreign policy team," Biden sent in an emailed statement prepared by the transition team.
Thomas-Greenfield's selection also suggests that the Biden administration is ready to pay more attention to Africa than under Trump's rule.
"This appointment indicates that we will not think of them as a holey country," said Leo C. Hamilton, a college friend of Thomas-Greenfield who is currently a partner at a large Baton Rouge law firm. "We will be much more concerned with their future and how intertwined their future is with our future."
Hamilton was a member of LSU's group of African American students, Harambe, in the early 1970s when, along with Thomas and Greenfield, there were the first waves of African-American students at the previously all-white school. Hamilton recalls that black students were not admitted to a university whose student body included white supermacist David Duke and members of a fraternity that openly harassed minorities.
The group organized civil rights demonstrations at the university and marched to the State Capitol. Thomas-Greenfield was involved, he recalled.
After graduating in 1974, Thomas-Greenfield pursued his master's degree at the University of Wisconsin and then taught at Bucknell University in Pennsylvania before joining the State Department in 1982.
Thomas-Greenfield recalled leaving Louisiana after accepting the Louisiana Public Broadcasting "Louisiana Legends" award in 2012.
"When I left here in 1974, I ran away from Louisiana because Louisiana was a place for me at the time where I wasn't sure this was where I wanted to put my life. Years later, I was surprised when I kept racing in the state of Louisiana and referred Louisiana home.
Thomas-Greenfield grew up near Leland College, which closed today, next to the historically black institution of the town of Baker. He first graduated from his family in 1970 at Northwest High School in Zachary, where he was a member of the first segregated class. Her parents never got past the third and eighth grades.
Cedric in Richmond Joe Biden gains loss to Democrat congressional baseball team
"This lady is working extremely hard," then-Secretary of State Condoleezza Rice said before taking the oath in 2008 as Liberian Ambassador Thomas-Greenwood. "Wherever there is hard work, Linda is there."
The mandate was crucial for the United States. Liberia emerged from 14 years of civil war after President George W. Bush sent 20,000 Marines in 2003 to oust a powerful Liberian man, Charles Taylor, who was accused of organizing the deaths of 20,000 people in the country. The country was ruled by Africa's first female president, Ellen Johnson-Sirleaf, who was elected in 2006.
During his four years of "gumbo diplomacy," Thomas-Greenwood was named an honorary citizen of Liberia. The country, founded by free American slaves in 1820, was still short of electricity from all over the country at the time of its posting, and its unemployment rate was 80 percent.
As a young girl who grew up in Baker, one of my biggest dreams was joining the Peace Corps. As the oldest of eight children, there has always been a…
Ahead of the 2020 presidential election, Thomas-Greenfield wrote a guest column in The Advocate about the power of voting.
"I grew up in the bends of southeast Louisiana, where I saw the fear evoked by the JRC and felt the humiliation of the 'white only' signs. I helped shape it into the leader I am today," Thomas-Greenfield wrote. "It's important to remember and respect the rich history that surrounds us, no matter how far we're from Mississippi at the moment."
In any case, Thomas-Greenfield is an attractive interlocutor whose behavior is so back home that people who haven't experienced him as an experienced diplomat are unaware of his resume.
One of the foreign students he befriended during his LSU days was Dr. Albert L. Agard, who was originally of Guyana but now of Houston descent. When he visited Liberia on a business trip, the conversation was about the good old days, and whatever happened so and so.
He was invited to a Thanksgiving dinner at the ambassador's mansion overlooking the Atlantic Ocean. It is reminiscent of a traditional Creole meal with crawfish filling, but also Casava greens, cooked as spinach and popular in Liberia.
"But he missed the red beans," Agard said.