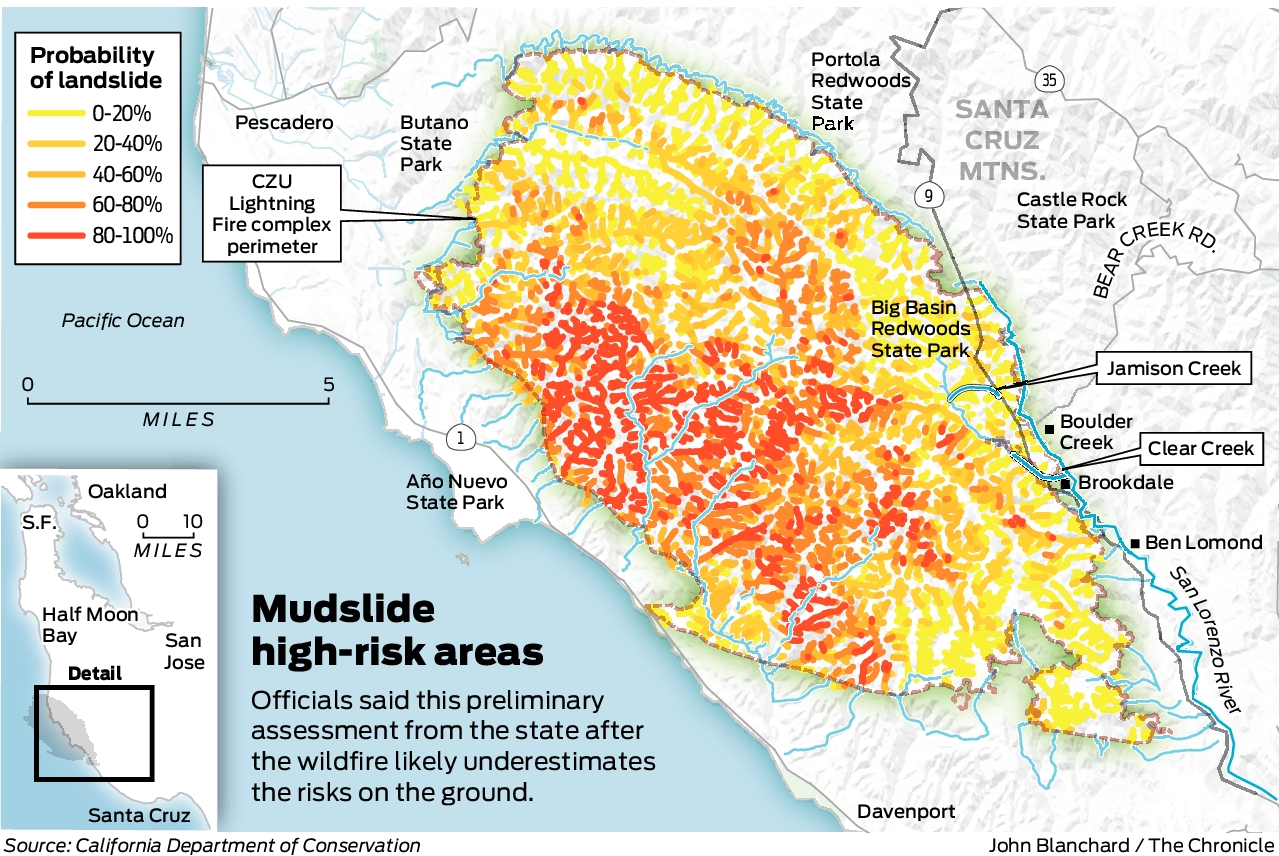 The Chronicle's Live Updates page documents the latest events in the winter storm system that crashed into Northern California, including the Bay Area and Tahoe Lake.
Latest updates:
23:05 A rapid flood warning has been issued for the burn scar of the CZU Lightning Complex in San Mateo, Santa Cruz County: Official Meteorological Service officials issued a rapid flood warning for the burn scar of the CZU Lightning Complex in southeastern San Mateo and northwestern Santa Cruz County by 4:45 p.m. Wednesday. Bay Area weather service officials said. Officials have warned that excessive precipitation over the burn scar will cause debris flow such as "rock, mud, vegetation and other loose material" through the burn scar of the CZU Lightning Complex. "This is a life-threatening situation for people in or near the burning area of ​​the CZU Lightning Complex," weather service officials told a consultant. "Heavy rainfall causes rapid flooding of streams and streams from the downstream combustion area of ​​the CZU lightning complex." Officials called on everyone who lives or drives in the burn scar area of ​​the CZU Lightning Complex, be it careful or erosive, debris flow and rock fall.
23 hours Jack-knife big drill accident, small fuel leaks cause lanes to be closed at Bay Bridge: While wind and rain picked up in the bay area on Tuesday night, an accident with a large rig equipped with knives closed the three eastbound lanes of Bay Bridge shortly west of Treasure Island shortly after 10:30 p.m. California Highway Patrol officials said. Lanes 4 and 5 were still open for passing vehicles. CHP officials said it would take about an hour to clean up the site, which included a small fuel leak from the accident.
10:50 PM The weather service publishes flood advice in eastern Sonoma County: Bay Area Office of the National Meteorological Service issued one Urban and small stream flood advice for poor drainage areas in Eastern Sonoma County, which includes the city of Santa Rosa, city officials said. The consultant is scheduled to work until 2:15 a.m. Wednesday. City officials say moderate or heavy rains are causing urban and small stream flooding. "It has rained between 0.5 and 1 inch and more 1-2 inches of rain is expected in the area," city officials said. "This additional rain will result in further minor flooding."
22:52 In Northern California without thousands of electricity: The storm hit a storm in Northern California on Tuesday night, leaving thousands of PG&E customers without power.
21:59, 89 Napa County Houses Caused Increased Alert Due to Mudslides: Owners of 89 homes between the Hennessey and Glass Fire burn scars were notified of the possibility of runoff and debris before this week's heavy rains, Napa County spokeswoman Janet Upton said Tuesday night. Following the assessment of the Cal Fire watershed, homeowners will receive an increased alert, Upton said. Napa County activated three emergency response teams in preparation for potential sludge spills this week.
20:18 Wind is getting stronger in the bay: Strong winds swept into Bay Area cities earlier than expected Tuesday night, meteorologists from the National Meteorological Service said. Speeds of 49 mph were observed in the Embarcadero in San Francisco and 36 mph in the Sunset District. Across the bay, windshield-shaking winds set off on the subsoil to more populated areas, with meteorologists reporting wind gusts of 41 mph / 32 mph / h in Oakland and 32 mph / h in Oakland.
19:42 Cal FIre CZU asks people to stay home in video: Cal Fire San Mateo-Santa Cruz unit a video in dangerous conditions on Empire Grade Road in Santa Cruz County on Tuesday night. Officials asked residents to stay home and avoid evacuated areas.
19:38 Sonoma urges vigilance near burn scars: Sonoma County officials warned there could be devastating sludge spills near Kincade, Walbridge, Meyers and Glass Fire burn scars on Tuesday. Officials have not issued evacuation warnings since Tuesday night, but have encouraged county residents to keep their cell phones charged in the event of a rapid flood alert to these areas.
19:23 pm Wind signal takes effect: A wind warning warning from much of the National Meteorological Service's ocean area came into effect on Tuesday night as forecasted high winds and heavy rains swept through the region. Wind speeds on the southern slopes are projected to reach up to 70 mph, warning meteorologists that power lines and trees could fall. The warning, which applies to San Francisco, the North Gulf, the peninsula coastline and the Santa Cruz Mountains, runs until 7 a.m. Wednesday.
19:16 San Jose will set up an evacuation site before possible floods: San Jose officials warned residents of the possibility of flooding on the Guadalupe River as heavy rains began on Tuesday. Homeowners in the Willow Street and Ross Creek areas of southwestern San Jose were encouraged to protect their properties with sandbags, move cars higher, and prepare for evacuation. Officials say an evacuation center has been set up at the Camden Community Center.
4:22 PM Solano County Evacuation Warning: County officials issued an evacuation warning part of the burning scar of the LNU Lightning Complex due to possible lightning floods.
16:11 Monterey County orders another evacuation: County officials ordered an evacuation areas within the two-mile slope of Carmel and River Fire burn scars on Tuesday at 4 p.m.
15:12 Closure of Highway 1 along the Big Sur coast: Caltrans said Highway 1 closed along the Big Sur coast at 5pm on Tuesday due to more rain. The closure is expected to last until Thursday.
15:10 Fast flood hour: Lightning floods will be available from Thursday due to possible debris flow in the East Bay Hills, North Bay, Santa Cruz and Santa Lucia Mountains, and along the San Mateo County Coast. Weather officials advised people to be careful about rapid water collection and monitor for steep terrain and landslides in steep terrain.
15:05 Some power outages may occur: Officials at Pacific Gas and Electric Co. said adverse weather conditions could result in weather-related power outages. Officials are on alert for sludge spills affecting areas affected by burn scars. But there were no planned power outages by Tuesday afternoon.
At 2 p.m., Bay Area residents prepare for possible landslides: Traumatized residents of the Santa Cruz Mountains, suffering from burns, are preparing for the first major storm of the season – either preparing to escape or facing blocked roads, drained power lines and, in the worst case, life-threatening landslides. There is a limit to the cost and COVID-19 where people can go as county shelters do not offer beds and the Red Cross offers cramped hotel rooms. Read the full story here.
13:26 Strong winds are expected to peak Tuesday night: The National Meteorological Service said Tuesday that a "very strong southerly wind" is expected to peak on Tuesday night, the night peak, in front of and with the atmospheric river. "The wind weakens significantly before Saturday morning, but remains breezy and windy" – NW Bay Area tweeted.
13:15 Monterey County orders an evacuation: It was ordered by the Monterey County Sheriff's Office an evacuation within the burning scar of the Dolan Fire and in areas within a two-mile slope at 1 p.m. Tuesday. Areas burned by last season's ferocious fires are vulnerable to severe mudslides.
12:33 pm High wind warning: The San Francisco Institute of Emergency Affairs on Tuesday issued a high wind warning Tuesday to 7 p.m. Wednesday to 7 p.m. Officials are warning people to avoid unnecessary travel and refrain from flooded areas and broken power lines.
11:30 Parts of Santa Cruz County under evacuation order: Firefighters issued evacuation orders from parts of Santa Cruz County on Monday as experts warn that heavy rains could cause muddy mud in the Santa Cruz Mountains, where the flames of the CZU Lightning Complex burned last year. You can read more here.
11:24 San Mateo County issues evacuation orders: Officials issued evacuation orders Tuesday in some areas of San Mateo County. The areas listed were: the southern coastal zone, which includes Costanoa and Año Nuevo State Parks; Loma Mar and Dearborn Park communities; and Butano Canyon. Officials set up a temporary shelter at Pescadero High School. Click here to view the live interactive evacuation map.
11 hours Due to weather conditions, the only mass vaccination site for SF must be closed: The UCSF will close San Francisco's only mass vaccination site for Tuesday afternoon for the rest of the week due to the wet and harsh weather ahead. Residents of San Francisco and UCSF patients 75 years of age and older were vaccinated at the site. The UCSF is rescheduling some visits Tuesday and the 250 scheduled for Wednesday, the spokesman said. There were no other meetings this week "because of a lack of vaccinations," he said.
10:45, San Francisco is preparing for a storm, warns residents to prepare: San Francisco officials are preparing for heavy rain and wind this week. Some outdoor COVID-19 test sites in the Bay Area will close or reduce hours this week, officials said. "The first major winter storm of the season is here, and we are asking San Francisco residents to do their part by watching each other, being ready for their emergency care, and avoiding unnecessary travel," Mayor London Breed said in a statement. Click here or call 3-1-1 to see if it affected the test site.