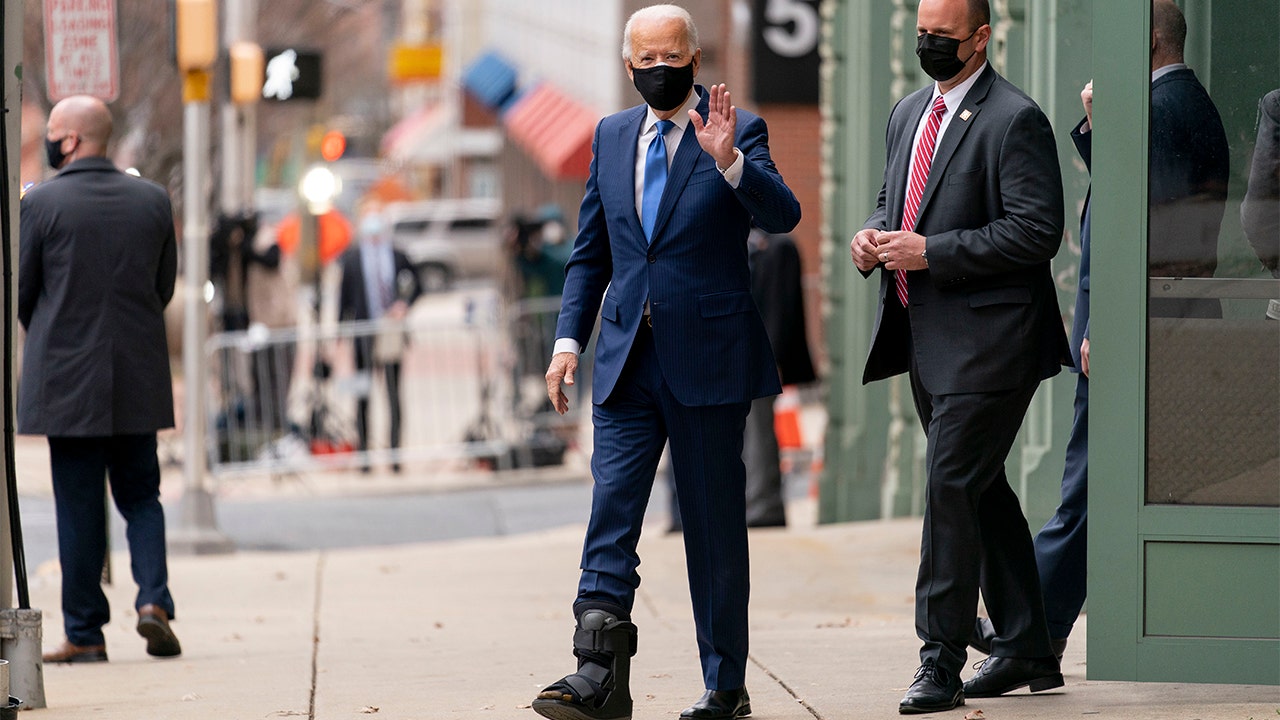 President-elect Joe Biden said in an interview on Thursday that he plans to ask the U.S. public to wear a mask for 100 days from the day of the inauguration in order to reduce the number of coronavirus cases.
In an interview with CNN, Biden said he would ask Americans to disguise them, but only for a limited time.
"On the first day they're installed, I'll ask the public 100 days to disguise it," Biden said. "Only 100, not forever – 100 days."
"I think we're going to see a significant reduction during vaccinations and masking to significantly reduce the numbers."
Biden's remarks follow a day after the United States registered a new coronavirus death at 2804 on Wednesday, according to data from Johns Hopkins University.
CORONAVIRUS IN LOCKDOWNS STATES: WHAT YOU NEED TO KNOW
The nation, which has registered more than 14 million cases and more than 275,000 deaths since the start of the epidemic, has also registered 200,070 new daily COVID-19 cases, although it did not exceed the previous daily record of 205,557 on November 27.
The daily record number of deaths coincides with the news of a record number of hospital coronavirus patients, which will exceed 100,000 on Tuesday. The grim milestone comes when health officials warned of the tensions and closure fatigue associated with holiday travel.
Biden's comments also draw attention to his encouragement to Capitol Hill lawmakers to get behind a bipartisan COVID-19 relief effort after a month-long log that they were speeding up to the end of the requested congressional sessions.
House Speaker Nancy Pelosi (California) and Senate Democrat leader Chuck Schumer of New York State on Wednesday backed a nearly $ 1 trillion approach as the basis for discussions. The announcement was aimed at budding Senate Majority Leader Mitch McConnell, R-Ky, who has so far refused to give up a $ 550 billion Senate GOP plan that has failed twice this fall.
Democrats have adopted a $ 908 billion approach, including moderate Sens. Joe Manchin (DW.Va.) and Susan Collins (R-Maine). It would create $ 300 a week in unemployment benefits, $ 160 billion to help state and local governments, boost schools and universities, revive business-friendly "pay insurance" subsidies, and rescue transit systems and airlines.
CLICK HERE TO THE FOX NEWS APP
"In the spirit of compromise, we believe that the bipartisan framework introduced by senators yesterday should be used as a basis for immediate bipartisan, bicameral negotiations," Pelosi and Schumer said. They said they were trying to build on an approach supported by a bipartisan "problem-solving" coalition in the House.
The statement marked a significant concession on the part of Pelosi and Schumer, who played hardball with the administration in the fall during pre-study discussions about the more expensive bill. They wanted more generous unemployment benefits and much more for state and local governments. The retreat of the $ 908 billion measure withdrew from a secret $ 1.3 trillion offer the two Democrats made to McConnell on Monday.
Another sign of the urgency of further support for COVID and economic stimulus as the economy struggles to recover from the shock of the new corona virus. While the unemployment rate is not as high as they feared, restaurants and airlines are desperate for help, as are other businesses, state and local officials, transit systems and the Post Office.
Fox News Peter Doocy, Kayla Rivas and the Associated Press contributed to this report.