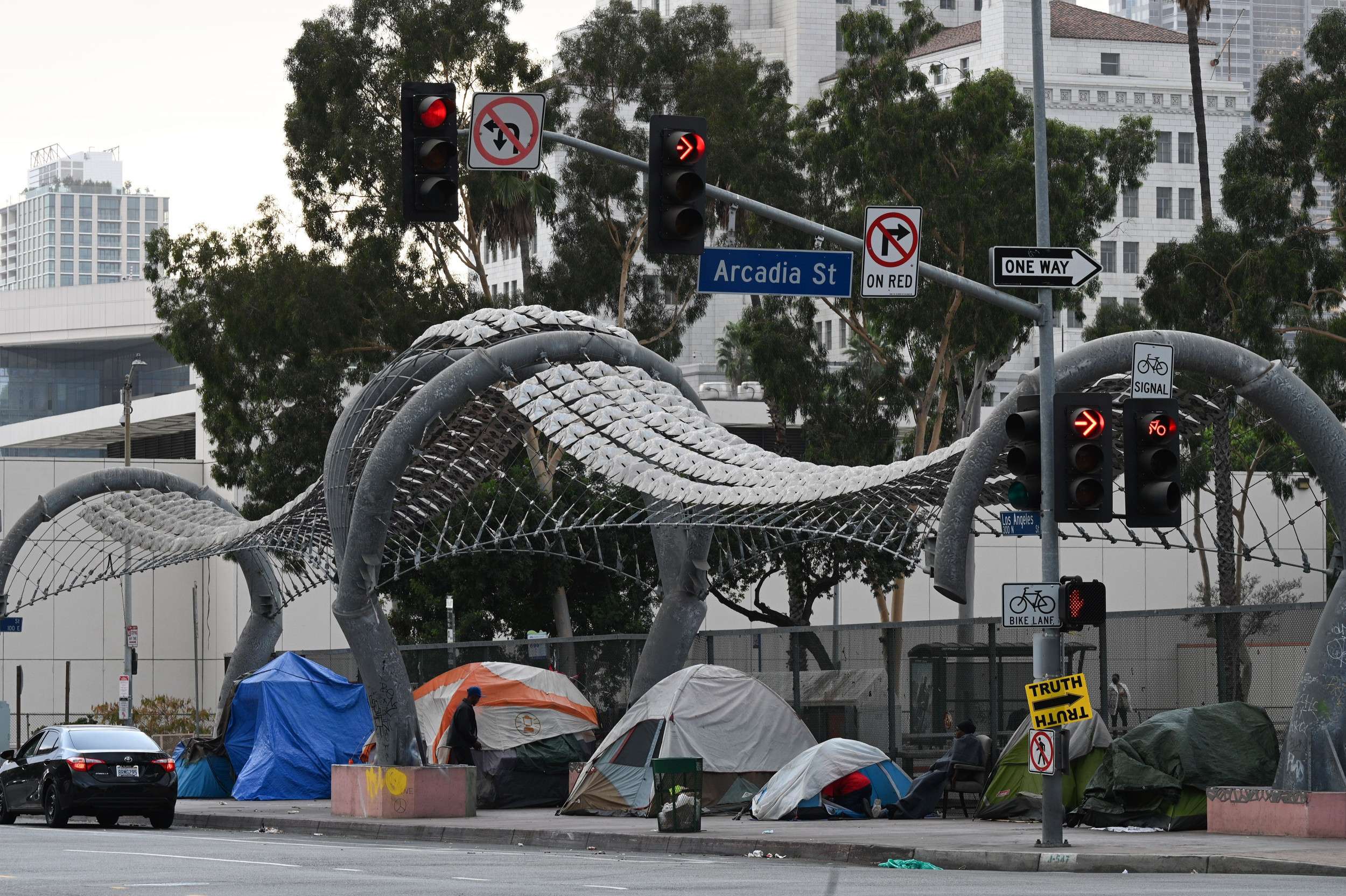 According to videos posted on social media, California Highway Guard officers forcibly removed people who occupied empty, state-owned homes in Los Angeles.
One video, published in a Street Watch LA report, shows two officers pulling a child out of a home in the El Sereno neighborhood on the eve of Thanksgiving while people scream in protest. – Have a heart! to hear a man shout.
"Tonight in El Sereno, the CHP expelled a mother and child who had regained legitimate public space. A child had been pulled out of his home, squeezed and arrested," reads the tweet.
Other clips have shown that officers in riot gear are apparently using battered rams to get into some houses. Television stations reported that some of the evicted people were swine cold.
Another person at the scene wrote on Twitter that highway patrols fired tear gas at people who had gathered against the eviction.
ABC7 reported that there were about 100 officers in El Sereno, but it was not immediately clear how many people were arrested.
A California highway patrol spokesman said Newsweek: "At the request of the California Department of Transportation, the CHP removed state-owned offenders." The spokesman did not detail how many were arrested.
The move came after a group of homeless activists and a family in search of a safe haven in the coronavirus epidemic occupied several homes purchased by the California Department of Transportation (Caltrans) to demolish the now-discontinued expansion of Highway 710. .
On the GoFundMe site, the Reclaim and Rebuild Community group said it is made up of families between the ages of 3 months and 70 years who have lived in a car or where the homeless live.
They said they had "peacefully" moved into several empty houses this week and called on Governor Gavin Newsom to ensure that Caltrans and the California Highway Patrol did not arrest or relocate them.
They also called on Newsom to instruct Caltrans to vacate the 170 vacant homes for those in need of shelter in the pandemic.
"We colored people are certainly facing the 'darkest winter', not only because COVID is booming again, but also because for us the economic crisis has worsened and the tsunami of evictions is dwarfed by the already small number of affordable, affordable house across the country. " there was an entry on the page.
"As he said, we are safer if we are able to self-quarantine and securely isolate a home. Therefore, as governor, we ask you to instruct Caltrans so that new families can turn on all their utilities immediately: heating and running water and electricity are essential to to a safe haven. "
In a statement, the group added that the move was "a final solution because the system failed all of us – especially the color communities – by creating this housing crisis, exacerbated by COVID and the economic crisis."
Referring to the governor's stay at home, they asked Newsom for "immediate support because we believe local shelter is the right one."
A Caltrans spokesman said in a statement to NBC Los Angeles that the homes were "unsafe and uninhabitable."
The spokesman added: "As such, Caltrans has asked the California Highway Patrol to remove the offenders so that the property can be reinsured and boarded."
Further comments were sought from Newsom's office and Caltrans.
This article was updated by a comment from a California Highway Patrol spokesman.