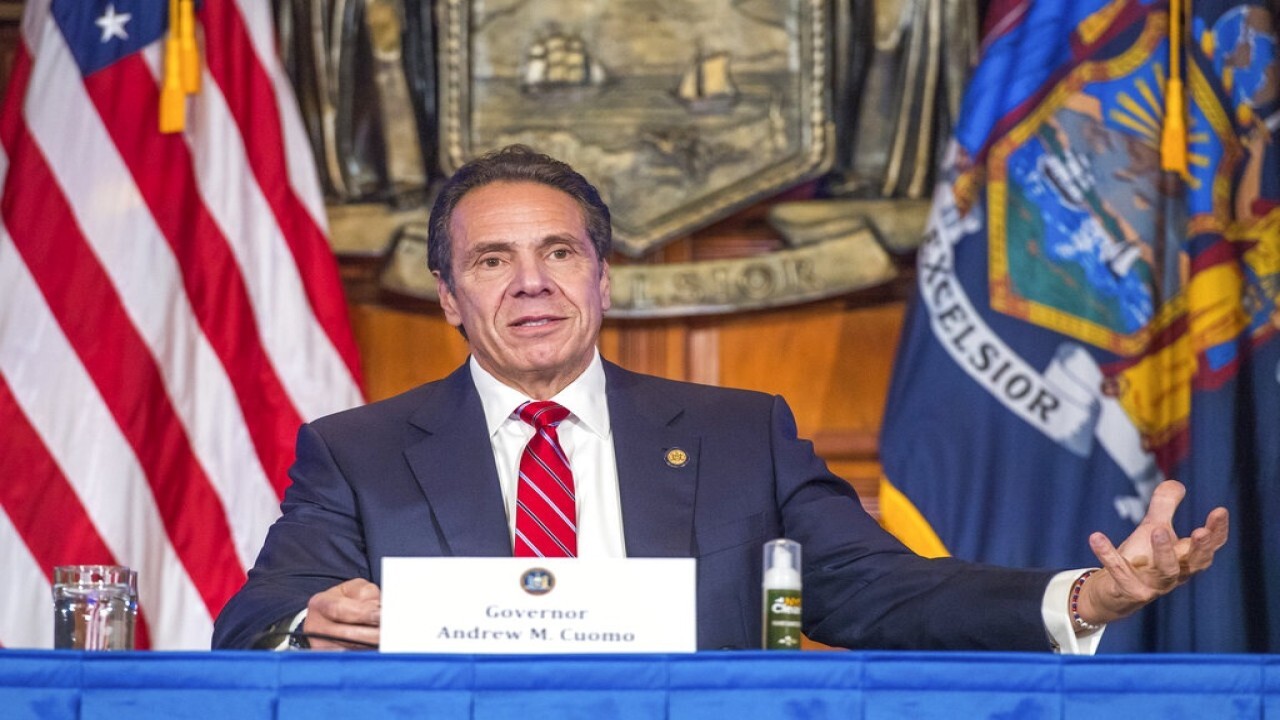 Federalist David Marcus blew up New York Governor Andrew Cuomo, who received the Founders' Award "for his leadership in the COVID-19 epidemic and his masterful use of television to inform and reassure people around the world" at Monday's International Emmy Awards ceremony. .
The award-winning Cuomo was widespread because of controversial home policies for the elderly, linked to the deaths of thousands of elderly residents. However, Marcus scoffed at the situation with a sarcastic column titled, "Andrew Cuomo definitely deserves an Emmy Award," which stated that "he's not the competent governor of New York, but he plays one on TV."
CUOMO adopts EMMY on CORONAVIRUS abbreviations as critiques
Marcus noted that the award was given to Cuomo's daily press conferences at the start of the epidemic when it received national attention for explaining how New York responds to the coronavirus.
"What wasn't mentioned either in the text of the award or in a video montage of old congratulatory New York celebrities was that New York's response was not only fragmented and shocking that the state not only had the most COVID deaths in the country, not only he raised unnecessary and dangerous doubts about the new vaccines, and that he personally decided to place COVID patients in nursing homes while killing many, "Marcus wrote. "But you see, that doesn't count as Emmy Awards either, because none of them took place on television.
Marcus noted that "these catastrophic mistakes of the Cuomo actually happened in the blood and dying, but these things were not talked about on television on the anchors struck by his bold yet calm leadership". crisis. Cuomo was counted as the opposite of President Trump, and was eaten by the mainstream media, handing him many questions about the process.
GOV. ANDREW CUOMO RECEIVES EMMY AWARD FOR ITS LEADERSHIP DURING PANDEMIC
"The reason Cuomo deserved his winged Emmy statue so much is precisely because, despite his leadership failures, he was fantastic on television," Marcus wrote. – That's a little weird, isn't it? Andrew Cuomo is America's best governor on television and the worst in real life. "
Marcus ended his take-off by suggesting that TV makers often don't care about the truth and focus more on producing a compelling product, regardless of the facts.
CLICK HERE FOR THE ROKA NEWS APP
"So when you yourself jerk the huge bowl of mashed potatoes this Thanksgiving, at the governor's command, remember to be grateful for Andrew Cuomo and all he did for the television," Marcus wrote.
Fox News Evie Fordham contributed to the report.