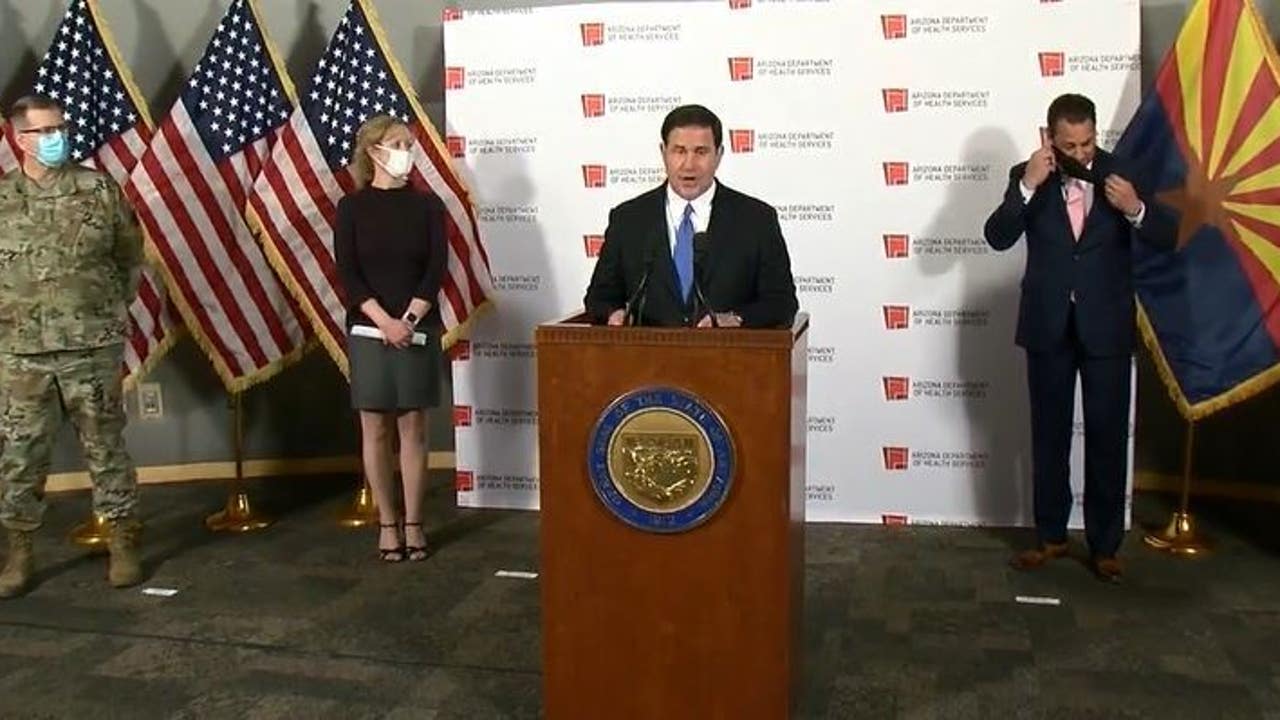 PHOENIX – Arizona Governor Doug Ducey will hold another press conference on Dec. 2 about the COVID-19 epidemic in Arizona as the state continues in new cases.
According to information Released by state health officials on Dec. 2, there were 3,840 confirmed cases and 52 deaths in Arizona, increasing the state's total to 340,979 cases and 6,739 deaths.
Meanwhile, COVID-19 hospitalization reached 2,699 on December 1, which was more than 100 as of November 30, and 642 patients were admitted to intensive care unit beds. COVID-19 hospitalizations in Arizona peaked at around 3,500 during the state's summer wave.
Here are some of the takeaways of the press conference:
1. Arizonans receive the COVID-19 vaccine for free
During the press conference. Governor Ducey spoke about the COVID-19 vaccine, where he said Arizona is expected to receive its first vaccination data in mid-to-late December.
In addition, Governor Ducey says he has issued an enforcement order that will allow all Arizona to receive the COVID-19 vaccine for free, and that educators will be given a priority group in administering the vaccine, along with health workers and first aiders. .
Governor Ducey said taxpayer dollars will not be used to pay for vaccines and that the state will work with insurance providers to enforce the new implementing regulation.
2. Extended funding for hospitals
Governor Ducey also announced another $ 60 million grant to hospitals for staffing purposes at the press conference.
3. Expanding outdoor meals, announcing public events
At the same press conference, Governor Ducey announced that local jurisdictions should announce major public events involving more than 50 people and detail the disease mitigation strategies they are implementing. In addition, Governor Ducey said restaurants must establish a permit for outdoor dining without a permit.
4. No mandatory mask order, curfew or shutdown has been reported
Despite calls for the implementation of a nationwide mask mandate Governor Ducey made no such announcements at the November COVID-19 press conference. At the press conference, Governor Ducey once again stopped announcing the mask order and did not announce any stoppages or curfews.
"I think we need to focus more on accountability and compliance with the rules that are currently in place," Governor Ducey said at the start of the press conference.
At the press conference, Governor Ducey also expressed his condolences to the families who lost loved ones due to COVID-19 and reiterated that Arizonans must wear a mask, wash their hands and maintain social distance measures.
Tune in to the FOX 10 Phoenix for the latest news
Get the latest coronavirus news by downloading the FOX 10 News App. Our promise is that our alerts are meant to inform – and not scare.
CoronavirusNOW.com provides comprehensive coverage of COVID-19, including news from around the country, exclusive interviews with health officials, and informative content from a variety of public health sources.
Sign up for FOX 10 email notifications and newsletters
Symptoms of Covid19
Symptoms of coronavirus COVID-19 include fever, cough, and shortness of breath. These are, of course, similar to colds and flu.
You can expect a runny nose to start with a sore or scratched throat, cough, runny nose and / or nasal congestion. The symptoms of the flu are more intense and usually appear suddenly and can be accompanied by a high fever.
Symptoms of COVID-19 may be slower. According to the World Health Organization, these usually include fever, dry cough, and noticeable shortness of breath. In some cases, pneumonia develops, and the disease is of particular concern to the elderly and those with other health problems, such as high blood pressure, obesity, diabetes, or heart disease.
RELATED: Flu, cold or COVID-19? Different viruses show similar symptoms
COVID-19 resources
CDC is the COVID-19 website
https://www.cdc.gov/coronavirus
https://espanol.cdc.gov/coronavirus/2019-ncov/index.html (in Spanish / En Español)
Website of AZDHS COVID-19
https://www.azdhs.gov/preparedness/epidemiology-disease-control/infectious-disease-epidemiology/index.php#novel-coronavirus-home
https://www.azdhs.gov/preparedness/epidemiology-disease-control/infectious-disease-epidemiology/es/covid-19/index.php#novel-coronavirus-home (Spanish / En Español)