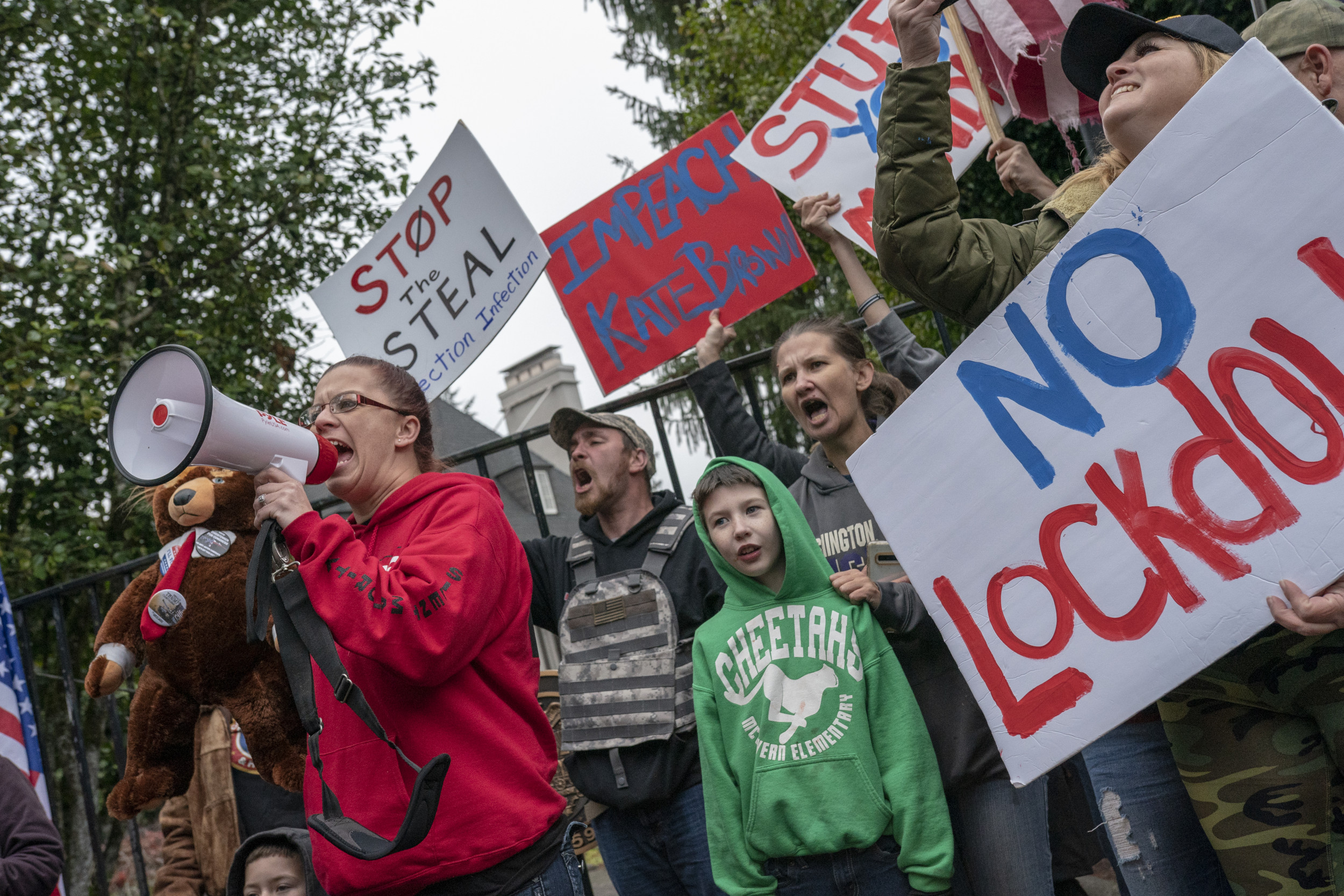 About an hour after the state governor extended the COVID-19 restrictions, about 250 anti-blocking protesters gathered in Oregon for Thanksgiving on Wednesday.
Participants in the "Defeat the Theft and Defy the Closure" demonstration allegedly took into account the masses of pro-Trump events and members of the far-right Proud Boy group,
Demonstrators were encouraged to bring food, such as turkey and pie, to a common buffet, and in the pictures sat at tables or tents amid the afternoon drizzle in Salem. Statesman Journal reports.
"The closure shouldn't happen," one participant, Geena Shipman, of Springfield, told the local newspaper.
"When businesses have to close … it affects them. Many people have worked all their lives to build a company to support their families and close them because they can't afford to stay open … and that's not fair."
In Oregon, several anti-blocking demonstrations have been held in recent weeks, with Governor Kate Brown overcoming a legal challenge from local restaurant owners calling for the lifting of nationwide anti-coronavir anti-virus measures.
The latest protests came just hours after Brown urged people to stay home at Thanksgiving, when it emerged they wanted to replace the state's two-week "freeze" restrictions with softer, longer-lasting measures.
At a press conference on Wednesday, Brown announced that the "freeze" – in which restaurants are limited to exports and other businesses are closed – will be replaced by a tier system next Thursday.
Under this plan, county coronavirus data are used to designate one of four risk levels: extreme, high, medium, and lower.
Measures for high-risk counties include restaurants and bars limited to 50 guests, for outdoor dining only, gyms remaining closed, and retail and grocery stores with a capacity of up to 50 percent.
The limits are expected to be maintained at least until January and may remain in force until the majority of the population has been vaccinated. Magazine reported.
Announcing the changes, Brown said: "As long as COVID-19 vaccines are widely available, health and safety precautions will remain in place to allow schools, businesses and communities to reopen and remain open."
"To prevent COVID-19 epidemics, Oregonians at all levels of risk must continue to wear facials, monitor their physical distance, wash their hands, stay sick at home, and keep social gatherings and gatherings small."
Data on COVID cases, hospitalizations, and deaths have reached record highs in recent days in Oregon.
The new, confirmed and suspected virus cases reached 1517 on Sunday – according to official state data, the record was broken for the third consecutive day. In Oregon, the number of cases exceeds 65,000.
A further 21 deaths were recorded on Tuesday, according to Johns Hopkins University, another state record that raises the total to 867.
The number of people hospitalized with COVID-19 on Monday was 456, another new high.
Last week, state health department director Patrick Allen warned, "Oregon is on a steep and steep slope.
"But we're not helpless against the virus. Because it's up to us to slow its spread. Your decisions will change."