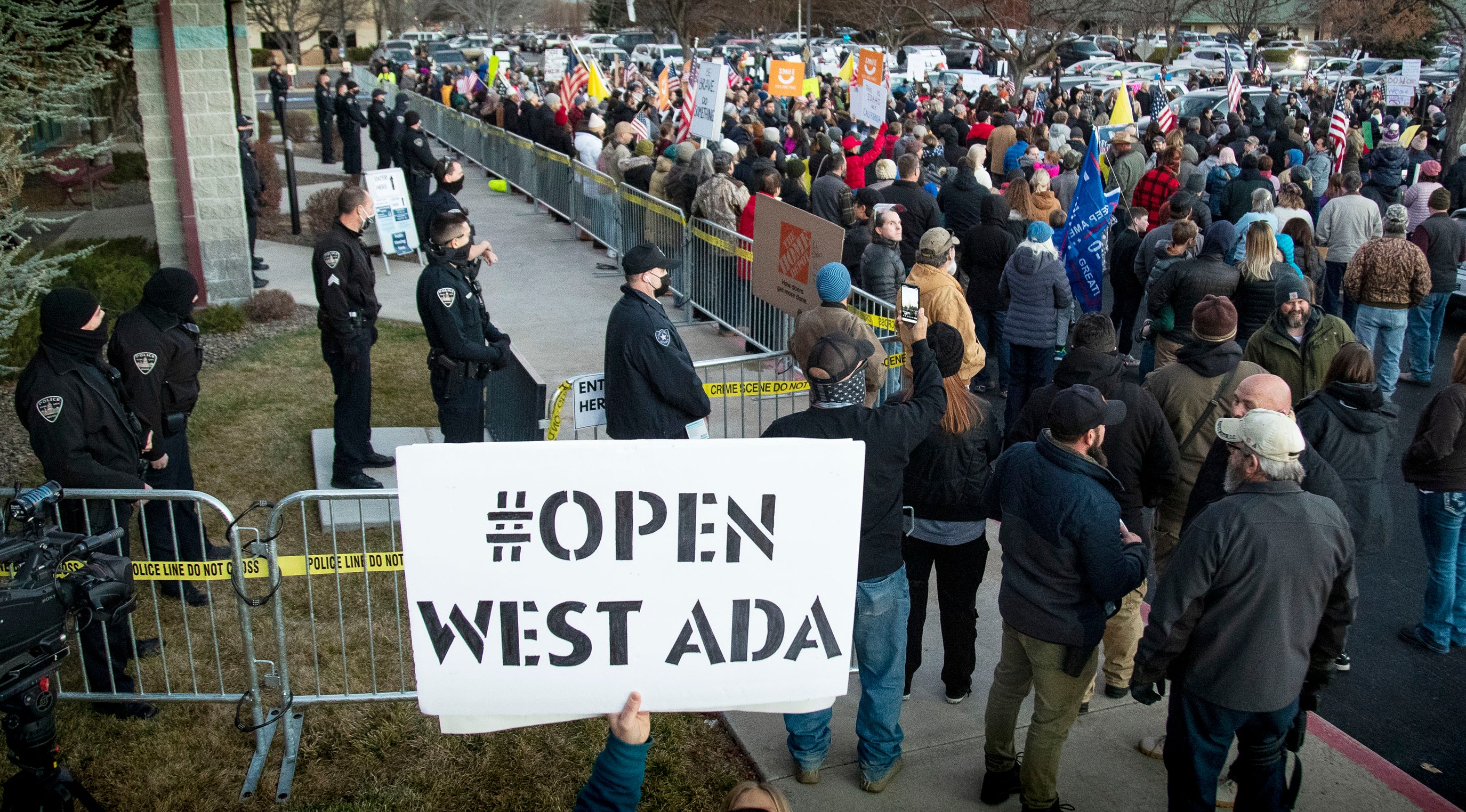 Idaho's Central District Board of Health postponed the virtual meeting Tuesday night because of "security concerns" when protesters gathered at Boise Central District Health Center and two board members 'homes to protest against coronavirus restrictions, the Central District Health said in a press release.
The board would have voted for a district-wide public health ordinance that would require residents of Ada, Boise, Elmore and Valley counties, among others, to wear a mask if they are unable to keep six feet away from people who are not members. their households.
JOURNEY IN CORONAVIRUS IMPLEMENTATION ORDER THAT PRESENTS AMERICA TO AMERICAN NATIONS
Boise police were already present at the Central District Health Center "in anticipation of a large-scale protest" after the order received more than 3,000 written public remarks between Dec. 4 and 7, the Central District Health said in a press release.
Board member Dr. Ted Epperly told the Idaho statesman that about 15 people "pounded trash and flashed flashlight through my window. Two came up and knocked on my door during the meeting.
Diana Lachiondo, Ada County Commissioner, left the virtual meeting to return to her house, where her son was home alone, and protesters "pounded in front of the door," he said.
"We are simply asking those who may disagree with these difficult points and decisions to do so in a respectful way and not endanger our staff, members of the medical board and law enforcement, all those who are critical of this response." Russ Duke, district director of central district health, said in a statement.
According to the Prince, Boise Mayor Lauren McLean and Chief of Police Ryan Boise have requested an interruption of the meeting, the Idaho statesman reported.
The United States will make a new one-day recording of 227,885 cases of CORONAVIRUS on Friday
Police arrested a woman in the central district health building after officers said she refused to abide by CDH rules. Police also issued a statement saying officers had requested an arrest warrant on suspicion of disturbing the peace in front of some protesters who had gone to the board members 'homes.
A video uploaded to Facebook by one of the protesters outside Lachiondo's home shows a small group of armed protesters banging buckets, using an air horn, playing loud sirens and other noises, and screaming on the sidewalk.
Lachiondo later a statement On his Twitter account, he said his family was fine and thanked the police for their help.
Idaho Governor Brad Little Republican considered Tuesday night's protests.
"The actions of the protesters in the private homes of public officials are to be condemned," he continued Twitter. "It's nothing more than an abuse tactic that seeks to remain silent. Our right to free speech must not be used to intimidate and intimidate others."
Last week, regional hospital officials warned that they were so overwhelmed by the large number of patients with the coronavirus – and health workers who are unable to work because they were ill – that the state could be forced to implement "critical care standards" within the next month. . . Crisis care standards have been designed to give patients most likely to survive COVID-19 access to potentially life-saving treatment when there are insufficient conditions.
CLICK HERE TO THE FOX NEWS APP
The Idaho Department of Health and Welfare reports that at least 113,905 Idaho residents have been infected with the virus so far, including a 2012 new case reported on Tuesday. To date, at least 1,074 residents have died from COVID-19.
The Associated Press contributed to the report.