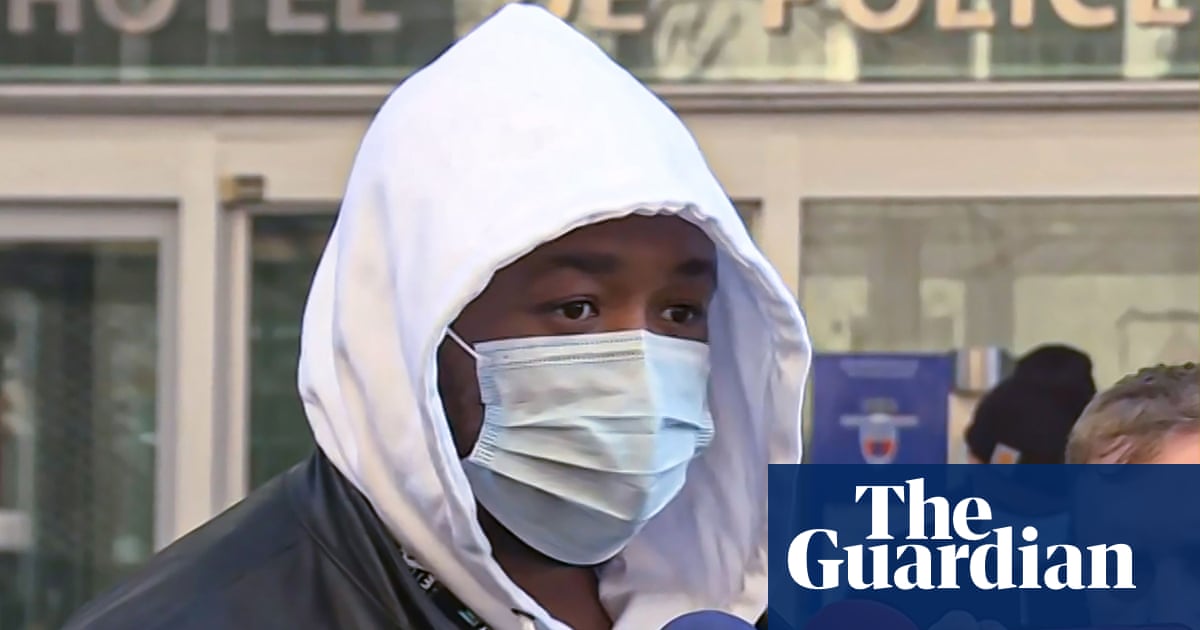 The French government is seeking to quell growing anger over recordings that police beat a black music producer in Paris, a series of alleged police acts of violence in the country.
Emmanuel Macron said the video in which officers beat Michel Zecler in his studio was "shameful" and said the government needed to find a way to restore public confidence in the police.
"The images we have all seen of the aggression against Michel Zecler are unacceptable, shameful for all of us. France can never allow violence or brutality, no matter who it comes from. France must never allow hatred or racism to flourish, "Macron said in a statement on his Facebook page.
"Whoever is responsible for enforcing the law must respect the law," he said.
Earlier, according to the news, the French president summoned his interior minister, Gérald Darmanin, to the Elysée to demand a "firm punishment" for police officers accused of violence.
Four officers have been suspended pending an investigation into Zecler's arrest last Saturday. Officers who did not notice the filming of the case allegedly made false statements saying that Zecler had attacked them and tried to seize one of their weapons.
The four were detained by police on Friday for questioning. Three are questioned "with deliberate violence in a group with guns and racism". The fourth officer is being investigated on charges of intentional violence and "intentional harm by dangerous means".
At the beginning of the day, Zecler's lawyer, Hafida El Ali, said he was disappointed because the men were not being held in custody.
"My client spent a totally unreasonable 48 hours in police custody," El Ali said, accusing police of making false allegations and "outrageously attacking." "If we didn't have the videos, my client might be in jail right now."
After the attack, the 41-year-old Zecler told reporters, "These people should have protected me. I did nothing to deserve this. I want these people to be punished by law. Of course I was afraid … lucky there are videos that protect me. This must not happen.
Europe 1 reported that Macron "saw red" after watching a video that spread on social media on Thursday.
Macron's reaction was also confirmed by other French media outlets who reported that Darmanin was ruffling pens between government ministers and members of the president's ruling centrist La République En Marche party.
Earlier this week, Darmanin expressed confidence in the police after they were criticized for using tear gas and a rubber truncheon to demolish a migrant camp in central Paris.
Following the action, two official investigations were launched: one with a police officer they were filmed to overthrow a migrant to escape from the officers, resulting in a heavy fall, and the second involving a police officer holding a journalist on the ground threaten with a truncheon.
Former President Nicolas Sarkozy's ex-campaign manager, Darmanin, has been accused of threatening Marine Le Pen's far-right supporters.
"SHE [Darmanin] it plunges us into a series of catastrophic cases. "- allegedly one government source told BFMTV, adding:" It is clearly too right-wing, which is not LREM's DNA. "
Darmanin also defended the police and said most of the officers did a good job. "I want to tell the police and gendarmes that I support them … The vast majority of them do remarkable work in difficult circumstances," Darmanin tweeted.
The minister said in a television interview that the images of the attack on Zecler were "unspeakable, shocking". "If the investigation concludes that an error has occurred, I request the release of the… police," Darmanin added.
French celebrities, sports stars and politicians all stood up to condemn the attack. Footballers, including French national team Kylian Mbappé and Antoine Griezmann, also expressed their anger. "Unacceptable film. Unacceptable violence. My France has values, principles and codes of conduct… to stop racism, "Mbappé tweeted.
Jean-Luc Mélenchon, a spokesman for the hard left, La France Insouminen, asked Paris President Captain Didier Lallement to resign, saying police had become a "militia". Socialist Party leader Olivier Faure said it was "time to accept that we need to address the issue of racism in the police".
The prosecutor's office said an investigation had been launched and entrusted to the IGPN, the police's internal investigation unit.
The latest line on police violence came when Parliament voted to pass a challenged new law that contains an article that makes it illegal to publish photos of police officers or gendarmes on duty "with malicious intent to physically or mentally harm them". Critics say he is open to police interpretation and threatens press freedom.
Jean Castex, the Prime Minister, announced the setting up of an independent committee to examine and rewrite Article 24.