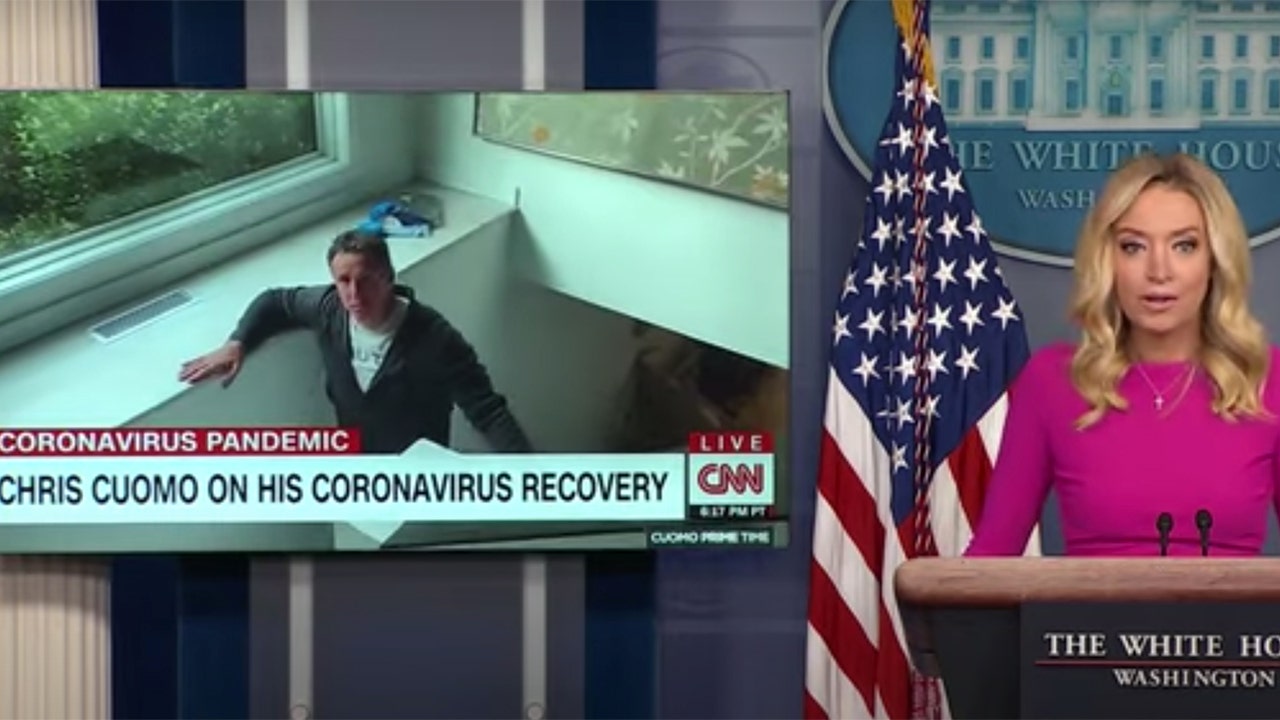 Chris Cuomo, CNN's anchor cameo, was featured in Wednesday's press conference at the White House when press secretary Kayleigh McEnany summoned him for "hypocrisy" of the coronavirus.
In recent weeks, democratic leaders have been caught violating the guidelines of the Center for Disease Prevention and Control, which they themselves have supported for their constituents.
McEnany began the briefing by playing a montage on the monitors behind him and presenting footage of the best Democrats caught ignoring various guidelines, which he called "Democrat hypocrisy."
KAYLEIGH MCENANY CHALLENGES CNN CHRIS CUOMO, DON LEMON OVER RIOT COVERAGE
Featured include security camera footage of an unmasked housekeeper, Nancy Pelosi of California, doing her hair in a closed San Francisco hair salon, photos of California Governor Gavin Newsom sitting inside at a crowded table. trendy upscale restaurant Chicago laundromat and Chicago mayor Lori Lightfoot are speaking to the street crowd without a mask, celebrating President Biden's election victory.
However, the non-politician included in the montage was a prominent anchor on CNN who, during his recovery from the corona virus, staged his own resurrection from the basement quarantine after the New York Post reported that he was embroiled in a fierce confrontation with a cyclist. who called Cuomo after spotting him outside the Hamptons without a mask.
McEnany mocked Cuomo's "made for a television moment," stressing that it happened after his "brother, Governor Cuomo's violation of quarantine rules," was captured after months calling on CNN viewers to follow CDC guidelines and shame those who don't.
"It's quite clear that these Democrats are not following their own regulations," McEnany told reporters. "They're acting to ban their own citizens from acting. These images behind me make the Democrats' mindset clear: rules apply to you, but not to me."
CLICK HERE TO THE FOX NEWS APP
This is not the first time McEnany has called Cuomo at a press conference. Back in August, the press secretary slammed an anchor on CNN for dismissing reports of violence that had taken place during the summer amid civil unrest in nationwide cities.
Chris Cuomo says, "Show me where it is that the protesters are supposedly peaceful! I'll give you an idea, Chris. It's in the Constitution, "McEnany swept the anchor.