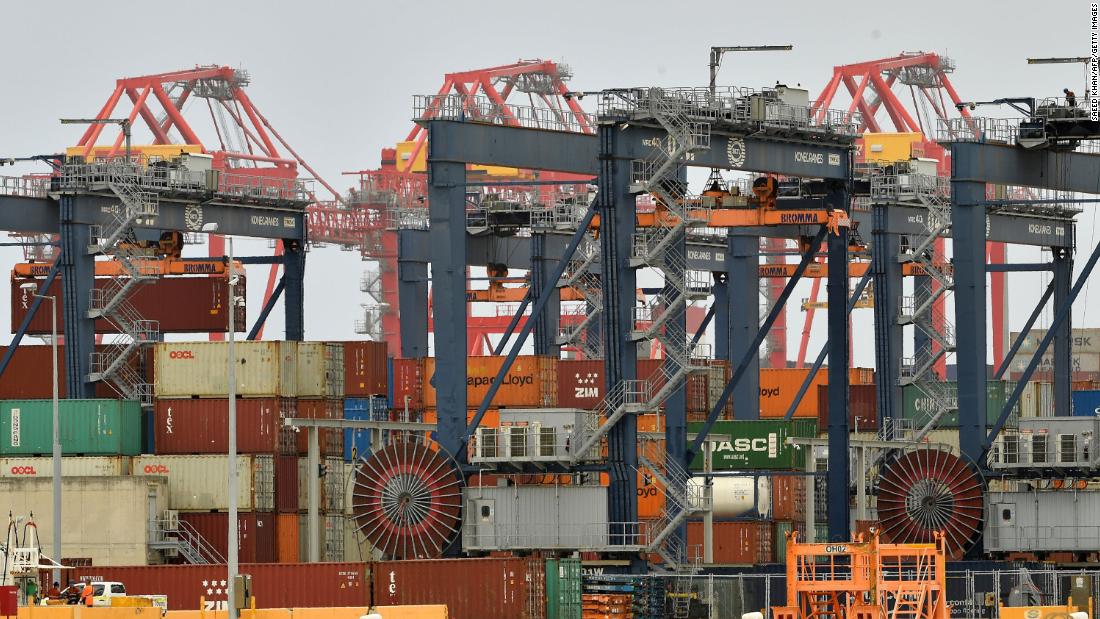 Now, the country needs to keep its precarious recovery in order while juggling deteriorating relations with its largest export market, China.
The Australian economy grew 3.3% in the three months to the end of September from the previous quarter, the Australian Bureau of Statistics said on Wednesday.
The recovery has been largely driven by improvements in household spending, as Covid-19 restrictions have been steadily lifted in much of the country. (The main exception was the extremely populous state of Victoria, which was kept tightly closed in part of the quarter due to the rebirth of the coronavirus.)
"As the president of the reserve bank said this morning,' we are now around the corner and recovery is underway, '" Treasurer Josh Frydenberg said on Wednesday, although he added that 'many challenges remain' as the rest of the world continues the pandemic with new restrictions.
Canberra's tensions with Beijing may also cast a shadow over recovery. Speaking to reporters on Wednesday, Frydenberg called the debate with China a "very serious situation."
"China is our number one trading partner. Many Australian jobs rely on trade," he said, adding that Australia is looking for free trade agreements with other partners around the world, including the European Union, to reduce the risk.
"I am very optimistic about the opportunities for our exporters around the world," Frydenberg said.
Economists, however, say the steady flood of trade has not escalated to the point of posing a real threat to Australia's economy.
Relations have deteriorated since Australian Prime Minister Scott Morrison called for an international inquiry into the origins of the coronavirus epidemic, which Beijing called "political manipulation."
Trade struggle "disruptive"
Since then, the two sides have struggled on several issues, including trade. China has cracked down on Australian winemakers with strict tariffs and banned or taxed exports of other products, including beef and barley.
A full trade war with China would be devastating for Australia. The world's second-largest economy is Australia's largest trading partner, with official statistics showing trade between the two was A $ 215 billion ($ 158 billion) in 2018. If almost all trade between the two is stopped, it would mean about 6% of Australia's GDP, according to researchers at the University of Western Australia and the National University of Australia.
"Any deterioration in the trade relationship is disturbing," Oxford Economics economists wrote in their report last month. Exports of goods and services in 2019 accounted for 22% of Australia's GDP. About a third of that went to China.
The trade dispute has already upset some industries: Australian winemakers have found the latest tariffs incredibly harmful and have been forced to look for new buyers in America and Europe.
But the full extent of the fight is vague as to how broad the meaning of the agricultural sector is. Ben Udy, an economist at Capital Economics in Australia and New Zealand, pointed out in a recent research note that the country's historic drought is likely play a role in harming these industries.
Economists say the damage is quite subdued as long as tariffs do not spread to larger industries.
"Currently, China's trade bans target pain points that harm relatively small export sectors such as wine, beef and other areas," said Hans Hendrischke, a Chinese professor of business and management at the University of Sydney. "These industries could suffer severe damage or even be forced to restructure. This is a problem of political pressure rather than widespread economic pressure."
Could mining be your next destination?
Mining materials, predominantly iron ore, account for a much larger share of Australian exports. Economists at Oxford Economics noted that 68% of Australia's raw material exports went to China last year.
Sean Langcake, one of the report's authors, told CNN Business that such restrictions are unlikely, given how much the Chinese steel industry relies on them.
Although China has not officially announced restrictions on the Australian mining industry, there are some signs of tension. Australian media reported last month that hundreds of millions of dollars worth of coal are being kept off the coast of China. Although not as significant as iron ore, coal remains a major export to China from Australia.
"We will rework these issues with respect to the Chinese government, as we do now," Morrison told reporters late last month when asked about these shipments. "Obviously there are tensions there. But those tensions will not be resolved by Australia if it surrenders its sovereignty."